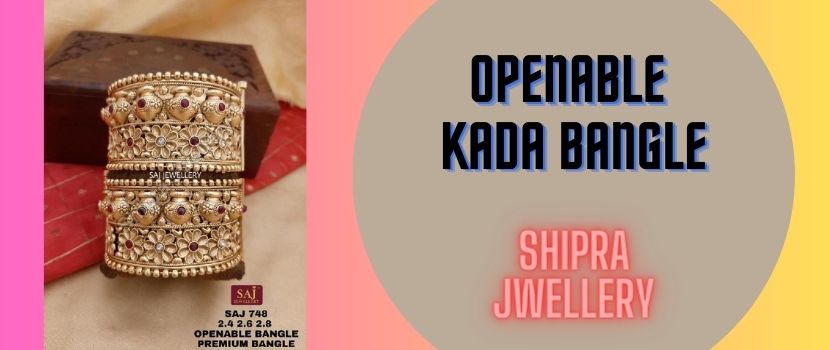 Our country has so many different cultures as it houses a total of 28 states. Each state has specific rituals and age-old traditions. Among various states, Punjab holds special significance because of its rich history and heritage. Since the Sikh community is a crucial part of Punjab, their rituals become very popular all over Punjab. Punjabi people are believed to be extremely courageous.
They admire their every tradition with utmost sincerity. Among numerous Sikh traditions, wearing Kada is a special one. It is said that in 1699, Guru Gobind Singh Ji mentioned wearing five Kakkars in Khalsa Panth. Punjabi Kada is one among those five Kakkars. Kada is a special category of bangles that are worn by both Punjabi men and women. Kada is a sign of bravery and concealment.
For Punjabis, Kada is not only jewellery but a symbol of a holy bond between them and Guru Govind Singh Ji. Punjabi Kadas are available in different sizes and designs which you can buy from any reputed seller. Most people misunderstood Kada as only an adornment item. But Kada has some notable health benefits too. Below we are going to describe some major health boons of wearing openable Kada bangle.
Antibacterial
The very first benefit of wearing Kada is they are antibacterial. Kadas are generally made with brass and other metal like copper. Kadas are generally worn on the wrists. For this reason, the metals present in the Kada come into touch with the skin. And in this way, the metals enter the human skin.
We all know that copper is an excellent metal that is extremely beneficial in making human health and mind better. Brass is a metal that has amazing antibacterial effects. For this reason, wearing Kada is 100% safe. There would be no chance of any material infections if you wear a Kada.
Boost Positivity
The next notable benefit of wearing a Kada is its capacity to boost positively. The scientific reason behind this is the presence of metals like brass and copper. Most experts even doctors have mentioned that wearing any metal can soothe both the mind and body. And Kada is made- up of pure brass and copper. Therefore, wearing Kada can increase your inner positivity.
Increase Energy
The next major benefit of wearing a Kada is its capacity to increase energy. Since Kada is made with pure metal, it can affect you in terms of astrology. Wearing Kada can boost cell flow without any stoppage. This helps your body to maintain the blood level.
It can help you to maintain negative feelings like depression, stress, anger etc. So if you are one among those who feel low every time, wear a Kada and see the magic. Openable Kada bangles can increase your energy and aid you in doing everyday chores more promisingly.
Promote Metabolism
The next major benefit of wearing a Kada is it can boost human metabolism. Yes, this is true indeed. Wearing Kada can boost your metabolism and the functions of the nervous system. This happens due to the presence of copper and brass in it. Continual exposure to these metals improvises your metabolism and digestive system. For this reason, you can easily digest your food if you wear a Punjabi Kada.
So these are some amazing benefits of wearing a Kada. Kadas is more than just jewellery. Whether you accept it or not, Kada can protect you from all the odds and act like your best friend.